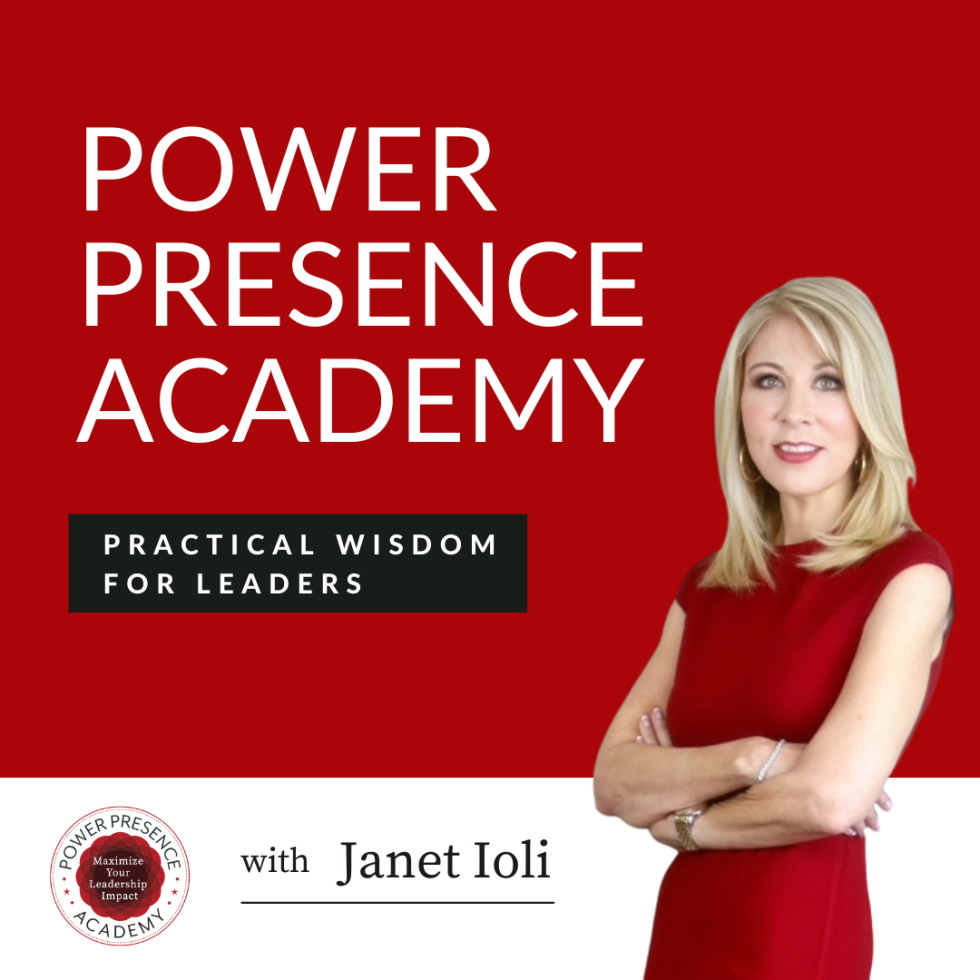 E2: Our Leadership Challenge: One Question To Ask Yourself in These Unsettling Times
I had a leadership interview ready to post for this episode of Power Presence Academy. Instead, I decided to use the episode to offer you a leadership challenge.
In light of everything that's going on right now in Russia and Ukraine, I think it's time to pause, step back, and have a different type of conversation. A somber, reflective one. I wanted to share some of my thoughts about what I see as our presenting leadership challenge and a turning point in these unsettling times. If we want to create a different leadership story in an organization, how we lead has to be different.
Join me in this episode not for the usual tips or advice, but for deeper self-reflection.
In this episode:
The question I believe we as leaders need to ask ourselves now to create real change in how we lead

A challenge to make one change in how you show up as a leader
Power Presence Academy: Practical Wisdom for Leaders is the go-to podcast for anyone who leads. Your host is Janet Ioli, a leadership and human development expert, sought-after coach and advisor to global executives, and former executive with experience in four Fortune 100 companies.
Noteworthy Quotes from This Episode
"Now more than ever, I think we're being called to step up and lead."
"The reality is we want to change, we want things to be better. We all want that. We're all trying the best we can and despite our best intentions, I think 'What do I do?' is the wrong question we're asking."
"What if the question we should really be asking ourselves isn't about doing at all? And the question is, what type of leader do I need to be in these times?"
"What we think, say, and do, and how we make people feel every moment as a leader has an enormous impact on everything and everyone around us."
"We spend much of our time reacting to our environments instead of creating them."
"We want to be loved. We want to be seen as good and worthy. And we want to feel safe. So, that creates reactive impulses. And those impulses are, I want to please people, I want to please the organization, I want to prove my worthiness, I want to protect myself from criticism and rejection."
"This fear of not measuring up puts us in this reactive place of pleasing, pushing, protecting, and doing whatever is necessary to meet these external standards of approval and success."
"Leadership involves intentionally creating the future, not just reacting to our present circumstances to get by."
"I really believe that change starts with each one of us making the decision to create the positive future we envision rather than just reacting to the circumstances around us, and that starts with our choices every single moment." 
Free Gift Offer
 If you enjoyed this episode, please leave a review on Apple Podcasts.  Select "Listen in Apple Podcasts," then choose the "Ratings & Reviews" tab to share what you think.  I'll send you a free gift to help you create your most powerful leadership presence if you submit the review and send me an email!
Connect with Janet Ioli:
Website: janetioli.com
Linkedin: Janet Ioli
Instagram: @janetioli