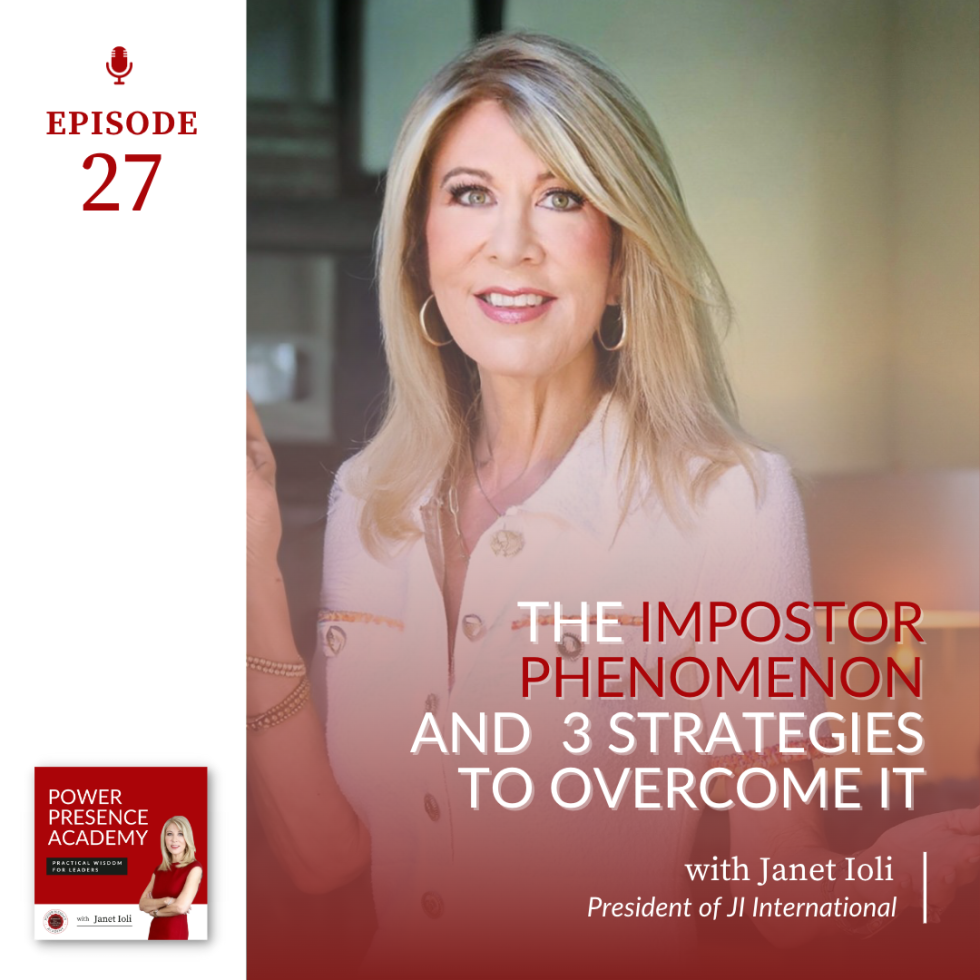 E27: The Impostor Phenomenon and 3 Strategies to Overcome It
"Even people at the highest levels of authority and success experience self-doubt, feelings of inadequacy, and feeling like a fraud."
These feelings can serve as obstacles to grounded self-confidence and continuous learning for many of my executive coaching clients. These feelings and thoughts often show up as flickering internal power outages where insecurity, questioning your own worthiness to be in a role, and fear of looking incompetent, run rampant inside your own head. 
I hear about these feelings and ruminating thoughts from powerful, confident people every single day in my one-on-one coaching and advising work. I have noticed that they tend to run most rampant when a leader moves into a new role or starts something new. I too, am not exempt– I have experienced these feelings myself.  
Today's episode is all about this "impostor phenomenon". 
We often hear the term "impostor syndrome" describing these feelings, and we use this terminology like a pop culture word without really understanding it.
Today we'll  clarify what it is, give you the information you need to assess if this is something you're experiencing, and provide you with 3 strategies to help you overcome it.
In this episode:
What is the impostor phenomenon?

The ways the impostor phenomenon can show up

The origin of the Impostor Phenomenon

Debunking the female impostor myth (HINT: It's not unique to women)

3 strategies to conquer your negative self-talk and feelings of inadequacy

And more!
Power Presence Academy: Practical Wisdom for Leaders is the go-to podcast for anyone who leads. Your host is Janet Ioli, leadership and human development expert, sought-after coach and advisor to global executives, and former executive with experience in four Fortune 100 companies. She helps leaders ground themselves with confidence, connection, and purpose and learn to lead with Less Ego, More Soul.
Noteworthy Quotes from This Episode
"Despite all the success, they were not able to internalize this success and their achievements, that it was almost like 'Okay. Yes, I did that. But I'm not really that good.'"
"The studies since then have shown that pretty much 70% of all people have experienced this [impostor] phenomenon."
"It also shows up in this incredible negative self-talk and I think the two things are related because what we tell ourselves and how we talk to ourselves influence how we think of ourselves and those feelings of inadequacy."
"I'm not so sure that [the impostor phenomenon] fits this gender stereotype that is what characterizes this. I think it's this need for outside validation. I think it's this need to achieve, this need to be seen as perfect, to fit in."
"I think part of this whole phenomenon comes from the inability to be a learner. And to realize that life is a process of learning. And we are not going to know everything when we come in. And that doesn't make you or me or any leader at any point in their career or anytime, inadequate, or a fraud. It just means you're learning."
Resource Links:
If you want to become more grounded, confident, and aligned with your deeper values in just 21 days. Check out my book Less Ego, More Soul: A Modern Reinvention Guide for Women.
If you enjoyed this episode, please leave a review on Apple Podcasts.  Select "Listen in Apple Podcasts," then choose the "Ratings & Reviews" tab to share what you think.  
Connect with Janet Ioli:
Linkedin: Janet Ioli
Instagram: @janetioli
Website: janetioli.com
Janet is the founder of Power Presence Academy.  She helps leaders ground themselves with confidence, connection, and purpose and lead with Less Ego, More Soul.