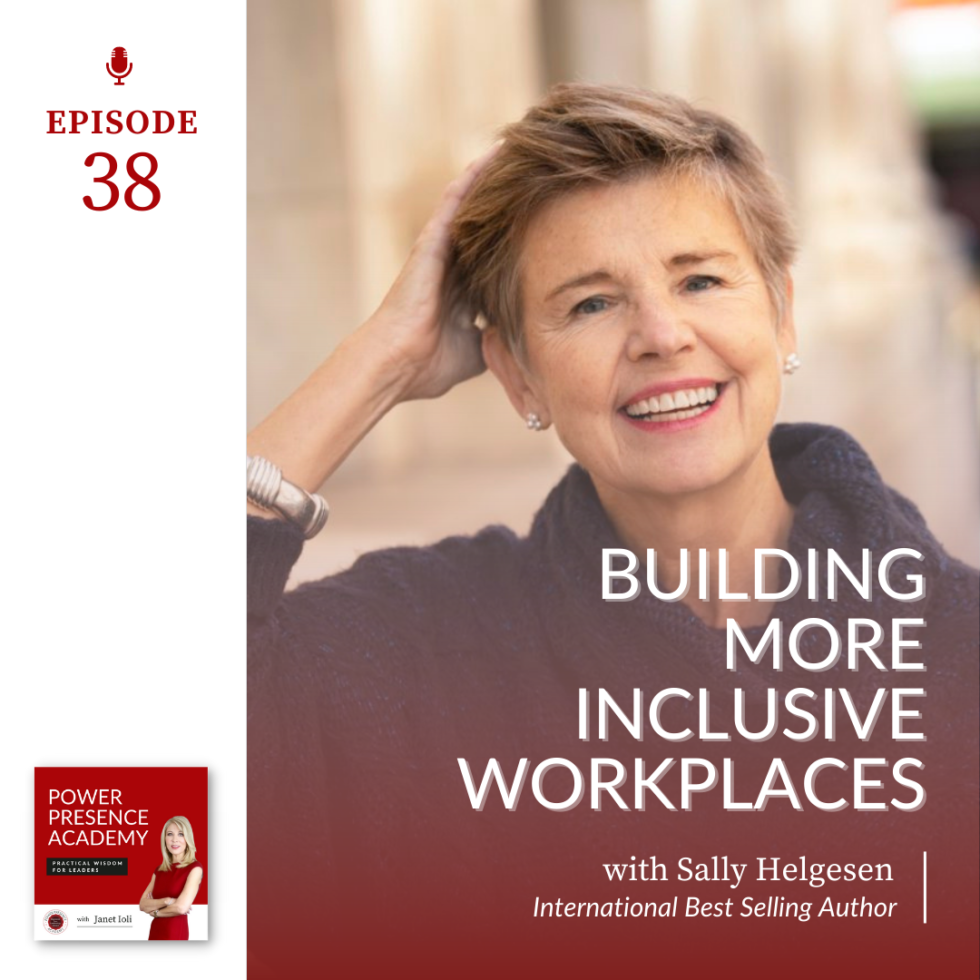 E38: Building More Inclusive Workplaces with Sally Helgesen
"When I hear leaders say, diversity is our goal, I think, nope, you're missing it, you're missing it. Diversity is the reality and finding a way to lead your diverse workforce inclusively is your task."
In this episode, I talk to Sally Helgesen, a renowned expert on women's leadership and internationally best-selling author who has been inducted into the Thinker's 50 Hall of Fame. 
You'll hear Sally share her wisdom about all things leadership, women's leadership, and how we can build more inclusive workplaces, which is the topic of her new book, "Rising Together".
In this episode:
Women's unique perspective on leadership

The double bind women face as leaders in the workplace

The biggest obstacles that stand in the way of women getting promoted

How to build strong and effective teams and relationships with a diverse workforce

The triggers that undermine strong relationships in the workplace

And more!
Power Presence Academy: Practical Wisdom for Leaders is the go-to podcast for anyone who leads. Your host is Janet Ioli, leadership and human development expert, sought-after coach and advisor to global executives, and former executive with experience in four Fortune 100 companies. She helps leaders ground themselves with confidence, connection, and purpose and learn to lead with Less Ego, More Soul.
Noteworthy Quotes from This Episode
"One man who was the CEO of a big construction firm stood up and said, we hope you don't waste your time or our time telling us why we need to get better at this. We understand. We don't have any idea how to do it. We don't have a clue."
"Triggers are environmental. We can't control them. They are emotional responses that come as a result of a situation we happen to find ourselves in. That's not the problem. The problem is the response that we have in terms of the story we tell ourselves."
"By trying to avoid triggers, what we do is we make it very difficult to learn how to effectively respond."
"We're not the Thought Police. We're not trying to police what people think. People can think whatever they want to think. But they have certain ways that they need to act, or we are not going to be effective at managing and leading the workforce."
"I can look back to things I thought 30 or 40 years ago. I think, oh my lord, was that me? But yeah, it was me. It was the 'me' of then. I had a certain mindset, it evolved. And often it evolves in response to our experiences. So when we practice different behaviors, we can create different experiences, and that will modulate our thinking."
Resource Links:
Read Sally's new book Rising Together: How We Can Bridge Divides and Create a More Inclusive Workplace.
You can find out more about Sally's other books here.
If you want to become more grounded, confident, and aligned with your deeper values in just 21 days. Check out my book Less Ego, More Soul: A Modern Reinvention Guide for Women.
If you enjoyed this episode, please leave a review on Apple Podcasts.  Select "Listen in Apple Podcasts," then choose the "Ratings & Reviews" tab to share what you think.  
Connect with today's guest on LinkedIn: Sally Helgesen
Connect with Janet Ioli:
Linkedin: Janet Ioli
Instagram: @janetioli
Website: janetioli.com
Janet is the founder of Power Presence Academy.  She helps leaders ground themselves with confidence, connection, and purpose and lead with Less Ego, More Soul.