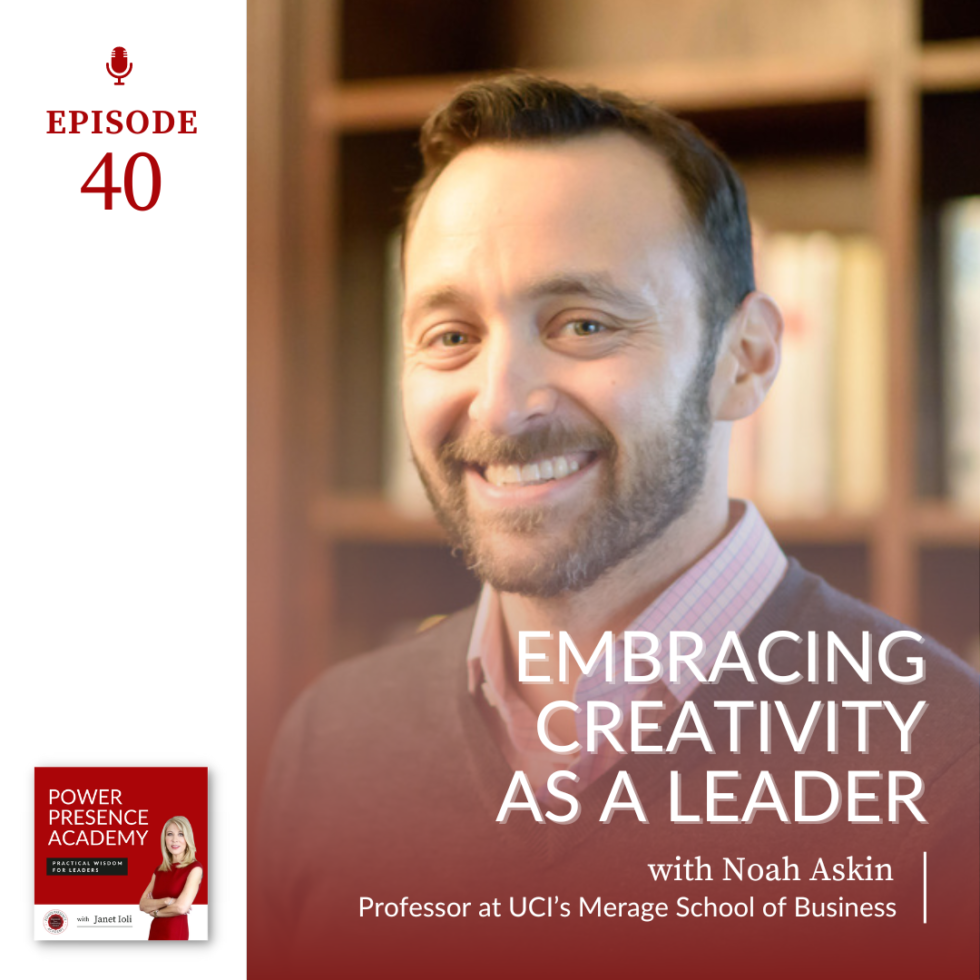 E40: Embracing Creativity as a Leader with Noah Askin
"I think creativity really is a function of trying to solve a problem from a new and different perspective. And that new and different perspective does not have to be new or different to the world. In fact, it most likely won't be.."
In this episode, I talk to Noah Askin, a professor at the University of California's Merage School of Business. Noah has spent nearly a decade teaching and directing executive development programs at the INSEAD Business School in France, which has been heralded as the business school for the world. 
In the past month, I have received numerous messages from listeners asking me to do an episode on the topic of creativity. As a result, I immediately thought of inviting Noah to the show. II asked him to join us to talk about this important topic of creativity and also its importance in relation to leadership and innovation.
You'll hear Noah share his ideas about creative problem solving, developing creativity within an individual even if they think they have none, what restricts adults from being creative, and how we can go about becoming more creative within organizations.
In this episode:
Why creativity is such an important trait in leaders

Lowering the stakes and expectations of creativity in order to embrace it

Developing creativity as an adult and what inhibits this

How creativity relates to innovation within organizations

The tolerance of failure: taking risks and learning from them.

And more!
Power Presence Academy: Practical Wisdom for Leaders is the go-to podcast for anyone who leads. Your host is Janet Ioli, leadership and human development expert, sought-after coach and advisor to global executives, and former executive with experience in four Fortune 100 companies. She helps leaders ground themselves with confidence, connection, and purpose and learn to lead with Less Ego, More Soul.
Noteworthy Quotes from This Episode
"I think creativity is one of the primary things that makes us human, our ability to come up with something new or to solve a problem in a new or different way. And I think particularly in light of all of the challenges that we face as a society right now, whether it's the massive large scale, climate-related challenges that we face or whether it's the economic challenges that we face on a national or local level, all of them require some degree of creativity, some of them a lot of creativity, in order to address these problems and solve them."
"To be an effective leader, you've got to be able to solve problems. Having observed people in the workplace for a while now leads me to believe that your ability to solve problems is directly correlated to your ability to be creative. to think differently about how to approach a problem that's existed for a while or even something that doesn't seem like a problem, but maybe could be solved better."
"It's not about innate capabilities. I think it's much more about a desire to do it, to work on it, to try over and over again, and to be okay with the kind of failure that comes along with being creative. All of that goes into it. And some people are more willing to step into that area that might be uncomfortable than others."
"I would call it the culture of creativity, which means taking risks, being okay with failure, learning, trying again, putting a bunch of stuff out there, and seeing how people respond to it. All of those things are processes and skills that can absolutely be developed."
"Honestly, I think having a hobby that you're just not very good at is a great way to start to think about creativity, because it means you don't care about the judgment, you care for the sake of whatever that hobby is, itself. And that's a good way to realize that, you know what, this is just fun, and it's engaging, and I can mess around because I'm not that good at it. And who cares, right?"
Resource Links:
Noah Askin is the Assistant Professor of Teaching Organizations & Management at UC-Irvine's Merage School of Business. His teaching and research topics include networks and networking, creativity (especially in music and the creative industries), leadership, organizational culture, organizational design for innovation, driving change, and managing your status. He continues to direct INSEAD's Product Management Executive Program and Leading for Results, one of the flagship open enrollment leadership programs.
If you want to become more grounded, confident, and aligned with your deeper values in just 21 days. Check out my book Less Ego, More Soul: A Modern Reinvention Guide for Women.
If you enjoyed this episode, please leave a review on Apple Podcasts.  Select "Listen in Apple Podcasts," then choose the "Ratings & Reviews" tab to share what you think.  
Connect with today's guest on LinkedIn: Noah Askin
Connect with Janet Ioli:
Linkedin: Janet Ioli
Instagram: @janetioli
Website: janetioli.com
Janet is the founder of Power Presence Academy.  She helps leaders ground themselves with confidence, connection, and purpose and lead with Less Ego, More Soul.