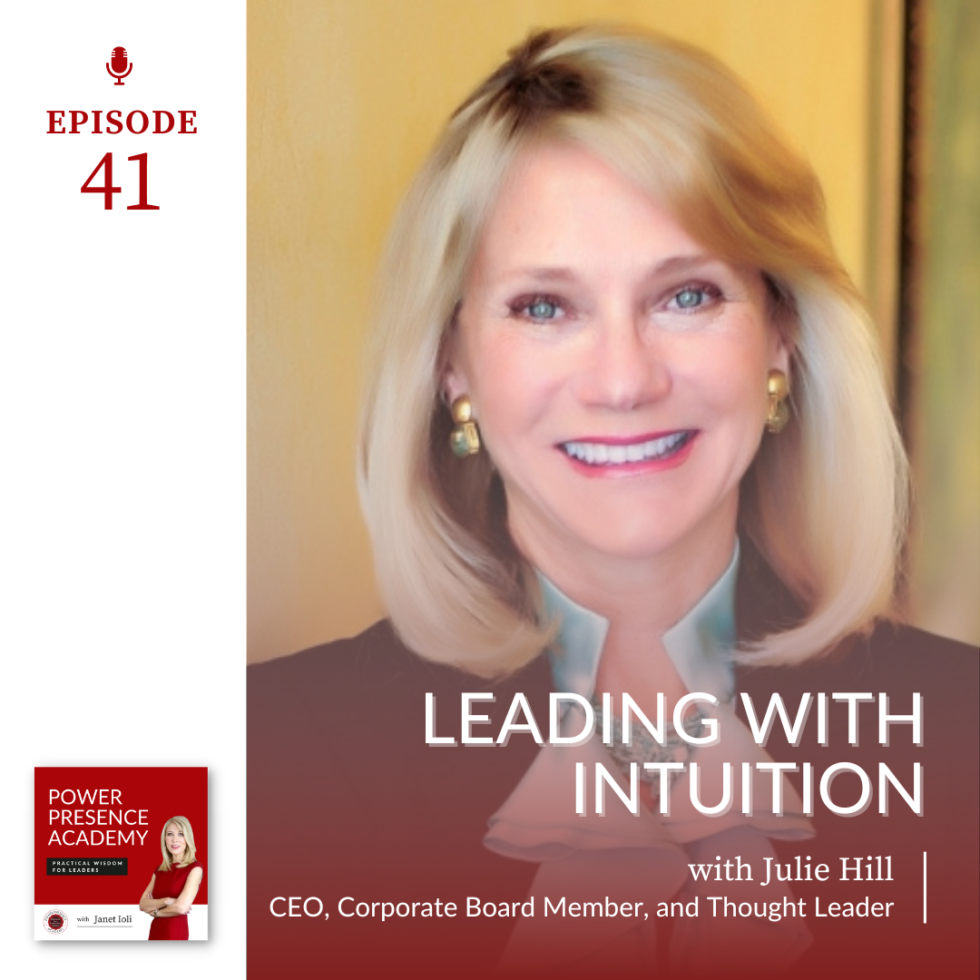 E41: Leading with Intuition with Julie Hill
"You have to get the basics, you have to have the tools, but the heart will lead you into places that you can't necessarily explain linearly that will help guide you. And it took a long time for me to realize that was okay."
In this episode, I talk to Julie Hill, a corporate board member, thought leader, former CEO, and all-around superwoman.
If you looked in the dictionary and tried to find a definition of mover and shaker, you probably would see Julie Hill's name listed under the definition. Julie has a history of firsts. She was the first female CEO of the US operations of a London based international development, construction, mining, and engineering company. She was the first woman board member for Anthem. And, she was the first woman chair of the University of California at Irvine's Board of Trustees. And those accomplishments only skim the surface. 
What was most amazing to me about this interview was that we started out talking about Julie's wisdom, experience, and advice, which she is full of. What I didn't anticipate was how our conversation evolved and lit up as we moved into talking about synchronicity, intuition, and energy.  We discovered a strange kinship and knowing that goes beyond the senses.  
You don't want to miss the wisdom on leadership and success Julie Hill shares in this episode!
In this episode:
Using frustration and anger to fuel you

Saying yes at the door and figuring out the rest later

Being scared but going for it anyway

Taking the next step even if you don't know the end goal

Paying attention to your intuition and the synchronicities in your life

And more!
Power Presence Academy: Practical Wisdom for Leaders is the go-to podcast for anyone who leads. Your host is Janet Ioli, leadership and human development expert, sought-after coach and advisor to global executives, and former executive with experience in four Fortune 100 companies. She helps leaders ground themselves with confidence, connection, and purpose and learn to lead with Less Ego, More Soul.
Noteworthy Quotes from This Episode
"That's the way I think life is. You look back at it, and it looks like it's a plan. But at the time you were just optimizing the situation, you were just making the very best of the choices you could make. And some choices were good. Some choices aren't. But the idea was just to keep moving forward."
"What I also say, when I mentor young women, is use a little bit of that frustration or anger to push you to do something you might not otherwise do."
"My observation is it's because you always said yes, at the door. And I thought about that. And you know, you think about the fact headhunters will tell you that if there's a job description with 10 items, men will apply with just 3 of the requirements. Women won't apply unless they have 8 or 10. So a little bit of that kind of bravado, not a personal affectation, but just a little bit of internal bravery, that helps you say yes, at the door, chances are, it's not rocket science on the other side, and you can figure it out."
"Another thing I say is ask people for their time. More often than not, they're very willing to give it and they'll give you 15 minutes. It's flattering. They want to tell you their story."
"I had a wise woman say something to me during a point of a dilemma. And she said, when you're in a situation like this, just do the next indicated thing. And you always know what is a next step you could take.  You may not have to know all of it. But you do know enough to take the next indicated step."
Resource Links:
Julie Hill is the first female board member of the Fortune 50 company, Anthem, as well as on the $240B mutual fund complex Lord Abbett. She was also the first woman chair of the University of California at Irvine Foundation Board of Trustees.
Julie founded Hillsdale Development, a home building and land development company based in Newport Beach, California, in 1998, which she sold in 2003.
She is a past Chair of the Paul Merage School of Business board and has served in various other capacities for the School of Social Ecology, the School of Biological Sciences, the School of Humanities, and the Women's Opportunities Center. She has received the Amelia Earhart Award from the Women's Opportunities Center, as well as the Glass Ceiling Award from the American Red Cross.
Julie earned a bachelor of arts degree in English from UCLA and a master's degree in marketing from the University of Georgia. 
You can find the books we mentioned in this episode below:
Synchronicity: The Inner Path of Leadership by Joseph Jaworski
Flow: The Psychology of Optimal Experience by Mihaly Csikszentmihalyi
The Secret Life of Trees: How They Live and Why They Matter by Colin Tudge
The Seat of the Soul by Gary Zukav
Braiding Sweetgrass: Indigenous Wisdom, Scientific Knowledge and the Teachings of Plants by Robin Wall Kimmerer
Dancing Wu Li Masters: An Overview of the New Physics by Gary Zukav
If you want to become more grounded, confident, and aligned with your deeper values in just 21 days. Check out my book Less Ego, More Soul: A Modern Reinvention Guide for Women.
If you enjoyed this episode, please leave a review on Apple Podcasts.  Select "Listen in Apple Podcasts," then choose the "Ratings & Reviews" tab to share what you think.  
Connect with today's guest on LinkedIn: Julie Hill
Connect with Janet Ioli:
Linkedin: Janet Ioli
Instagram: @janetioli
Website: janetioli.com
Janet is the founder of Power Presence Academy.  She helps leaders ground themselves with confidence, connection, and purpose and lead with Less Ego, More Soul.