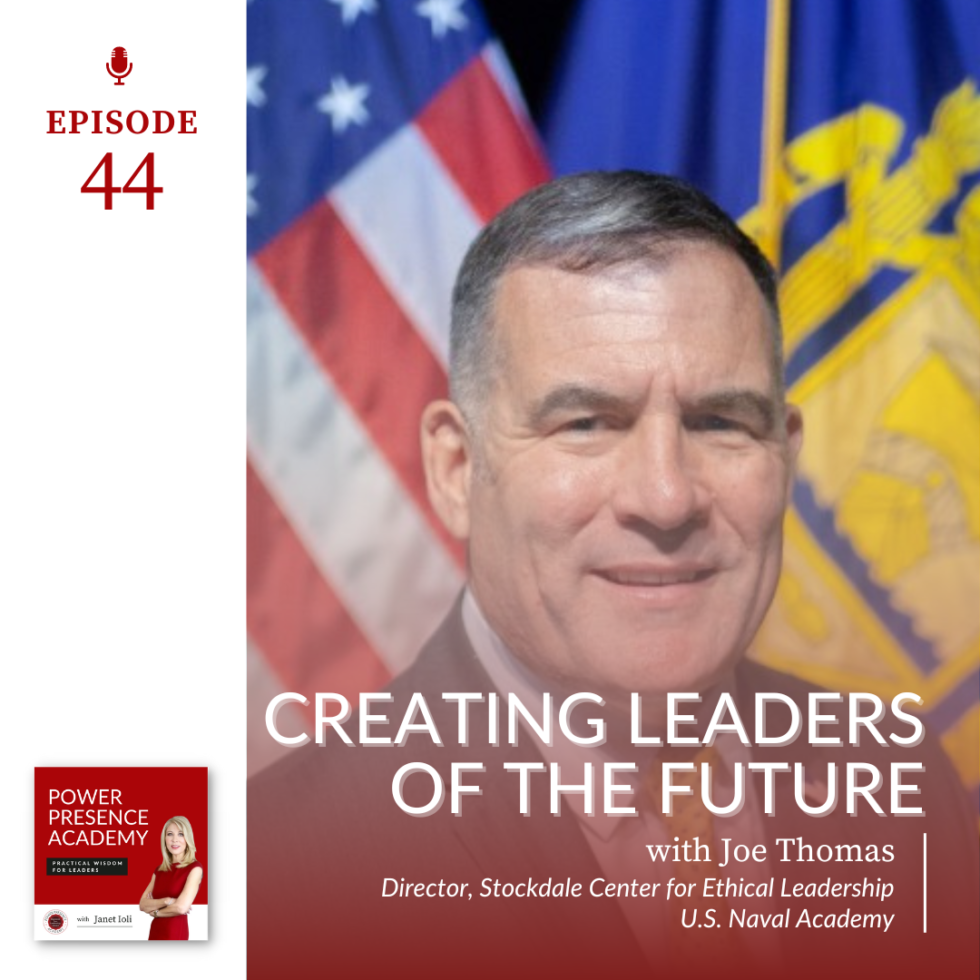 E44: Creating Leaders of the Future with Joe Thomas
"We're just trying to build smarter people here. Right now, smart people grant dignity, they grant dignity to others, and they're inherently respectful and inclusive."
In this episode, I talk to Joe Thomas, director of the James Stockdale Center for ethical leadership at the US Naval Academy and an expert in leadership development. 
One of the  questions that's recurring in the consulting and coaching work I do with executives is this one:
"How do we develop leaders of the future?"
I couldn't think of a better person to have a conversation about this very question with than Joe Thomas. If anyone knows about leadership development and creating leaders for the future, it's Joe. 
So join us as we have a very enlightening conversation. He shares his views about the trends and competencies needed for leaders of the future.
In this episode:
What is ethical leadership?

Discipline is key when it comes to focusing on true priorities

The importance of developing and opening your mindset

Measuring leadership by breaking it down into measurable, tangible competencies

Incorporating diversity, dignity, and respect into leadership development

And more!
Power Presence Academy: Practical Wisdom for Leaders is the go-to podcast for anyone who leads. Your host is Janet Ioli, leadership and human development expert, sought-after coach and advisor to global executives, and former executive with experience in four Fortune 100 companies. She helps leaders ground themselves with confidence, connection, and purpose and learn to lead with Less Ego, More Soul.
Noteworthy Quotes from This Episode
"I at least think of ethics as the way we collectively come to decisions about right and wrong. That's as opposed to morality or morals, which are how we individually come to decisions about right and wrong. So a big distinction."
"Ethical leadership is the business of creating folks who can direct influence and inspire the efforts of others in such a way that's in keeping with the ethical obligations and responsibilities associated with the public sector"
"There's an old cliche that there's absolutely no excuse to have anything less than a 3000-year-old mind. And what they mean, I think, in that old quote is that we have access to 1000s of years of collective wisdom that really smart people, for a very long time, have been asking questions that we're pretty much still asking ourselves in the 21st century."
"There are so many things that are competing for our time, our energy, our focus, and our attention that if one doesn't use discipline to focus on true priorities, you're going to be pulled in a million different directions and my core belief is that there's brilliance in the basics."
"Every organization has challenges that are particular to their context. But if there is something that's universal, I think it's the pace of change, right? The rapid acceleration of change, and it's driven by technology to a degree. Most of us don't suffer from a lack of information. Most of us suffer from information shock or content shock."
Resource Links:
Dr. Joe Thomas served as a Lieutenant colonel for 24 years in the Marine Corps.  He served as Director at the Gen John A. Lejeune Leadership Institute at Marine Corps University, as an instructor at Marine Aviation Weapons and Tactics Squadron 1, as a Battalion Officer at the US Naval Academy, and as the Senior Education Officer at Marine Corps Training and Education Command.  
In addition to his 14 years of teaching experience in the Naval Academy's Leadership, Ethics, and Law Department, he's taught at the University of Notre Dame, the University of Maryland, and George Washington University.
He has published six books on the topics of leadership and ethics, along with numerous articles, book chapters, and research reports.  
Joe holds master's degrees from the Maxwell School of Citizenship and Public Affairs at Syracuse University and the US Army War College as well as a PhD from George Mason University.
Read Joe's latest book Developing Cross-Cultural Competence for Leaders. 
Some of the other books we spoke about today were The 7 Habits of Highly Effective People: Powerful Lessons in Personal Change by Stephen R. Covey, Atomic Habits: An Easy & Proven Way to Build Good Habits & Break Bad Ones by James Clear, and The Daily Stoic: 366 Meditations on Wisdom, Perseverance, and the Art of Living by Ryan Holiday. 
If you want to become more grounded, confident, and aligned with your deeper values in just 21 days. Check out my book Less Ego, More Soul: A Modern Reinvention Guide for Women.
If you enjoyed this episode, please leave a review on Apple Podcasts.  Select "Listen in Apple Podcasts," then choose the "Ratings & Reviews" tab to share what you think.  
Connect with today's guest on LinkedIn: Joe Thomas
Connect with Janet Ioli:
Linkedin: Janet Ioli
Instagram: @janetioli
Website: janetioli.com
Janet is the founder of Power Presence Academy.  She helps leaders ground themselves with confidence, connection, and purpose and lead with Less Ego, More Soul.