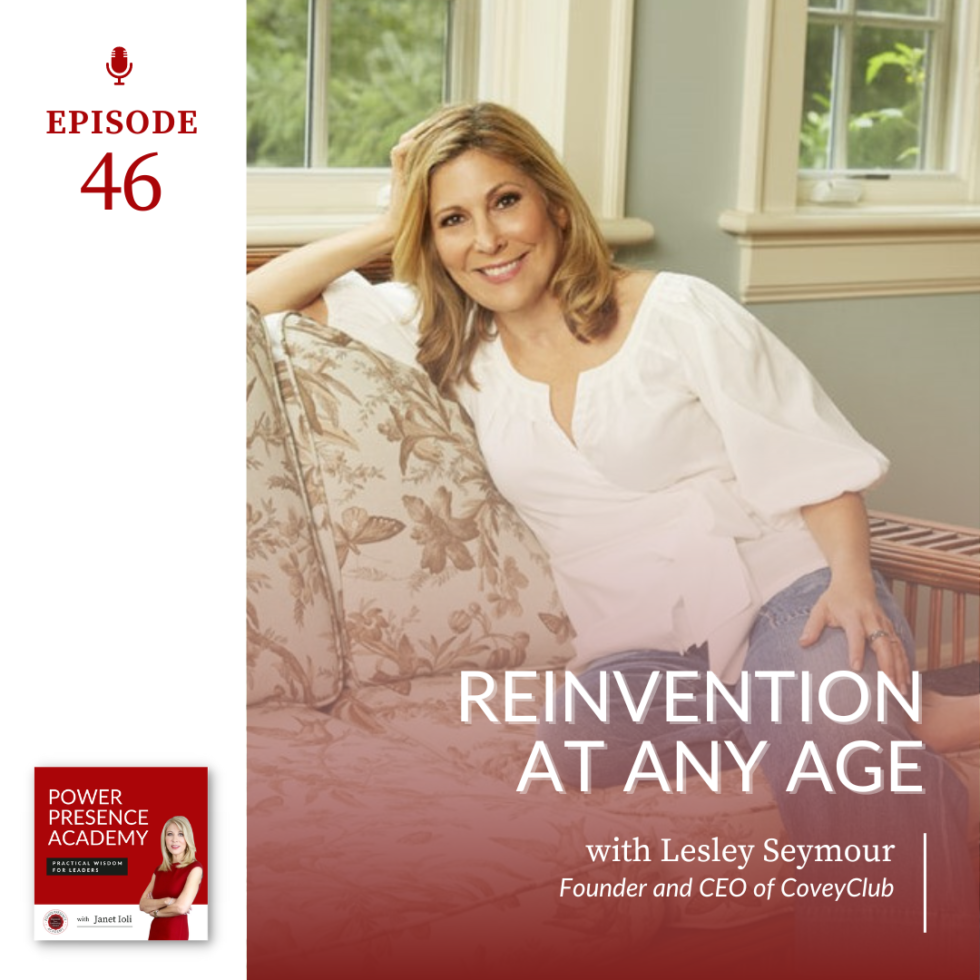 E46: Reinvention At Any Age with Lesley Seymour
"Everybody can learn to reinvent whatever it is you want to do. You just have to learn how to go about it."
Gendered ageism is the intersection of age and gender bias in the workplace. This is a growing concern for professional women. I talk to so many women about wanting to reinvent themselves and start a new career or get a new job. They're hesitant because they feel as if they're dismissed in the job market due to their age.
In the workplace, this form of bias impacts their job security and their financial future. I couldn't think of a better person to have a conversation about this topic than Lesley Jane Seymour.  Lesley is a former editor, an author, and the founder of the Covey Club, an online community for professional women focused on reinvention.
Lesley uses her personal story of reinvention after being editor-in-chief of four national magazines as inspiration to others. She inspires people to reach beyond their self-imposed boundaries to realize that they can reinvent themselves at any age because she did it herself.
In this episode:
The perception of "you're done" at a certain age

Minding your own prejudice around age

Getting out of your comfort zone

Reinvention is not linear, it's an exploratory process

Striving for perfection is the death of success
Power Presence Academy: Practical Wisdom for Leaders is the go-to podcast for anyone who leads. Your host is Janet Ioli, leadership and human development expert, sought-after coach and advisor to global executives, and former executive with experience in four Fortune 100 companies. She helps leaders ground themselves with confidence, connection, and purpose and learn to lead with Less Ego, More Soul.
Noteworthy Quotes from This Episode
"Through change and through supporting women 40+ out there, we will make people understand that we're not dead. We're not going anywhere. We have a long life to live after 40, sometimes even another 40 or 50 years. And we get to decide when we're done."
"You're not the only person going through menopause, you're not the only person losing your mind, you're not the only person. But we live in this isolation. And you have to get out of that isolation to understand.."
"Older people, and especially older women are more successful because they already have their networks. They already have money behind them. They already have skills. You're gonna leap ahead of other people."
"Sometimes going out and exploring a new hobby, getting a new degree. Expanding your self can lead to all kinds of different things"
"You just have to be willing to be an idiot again because that's where the learning is. The learning is in a beginner's mindset, and letting go of the fact that I'm the world's expert in whatever."
Resource Links:
Lesley Seymour is the CEO and founder of CoveyClub, an online community for professional women focused on reinvention. She has interviewed everyone from First Lady Michelle Obama to Mindy Kaling to Hannah Grove (CMO of State Street Bank). She was previously a senior editor of Vogue, editor-in-chief of Marie Claire, Redbook, and More magazine. 
Visit CoveyClub here.
Connect with today's guest on LinkedIn: Lesley Seymour
If you want to become more grounded, confident, and aligned with your deeper values in just 21 days. Check out my book Less Ego, More Soul: A Modern Reinvention Guide for Women.
If you enjoyed this episode, please leave a review on Apple Podcasts.  Select "Listen in Apple Podcasts," then choose the "Ratings & Reviews" tab to share what you think.  
Connect with Janet Ioli:
Linkedin: Janet Ioli
Instagram: @janetioli
Website: janetioli.com
Janet is the founder of Power Presence Academy.  She helps leaders ground themselves with confidence, connection, and purpose and lead with Less Ego, More Soul.