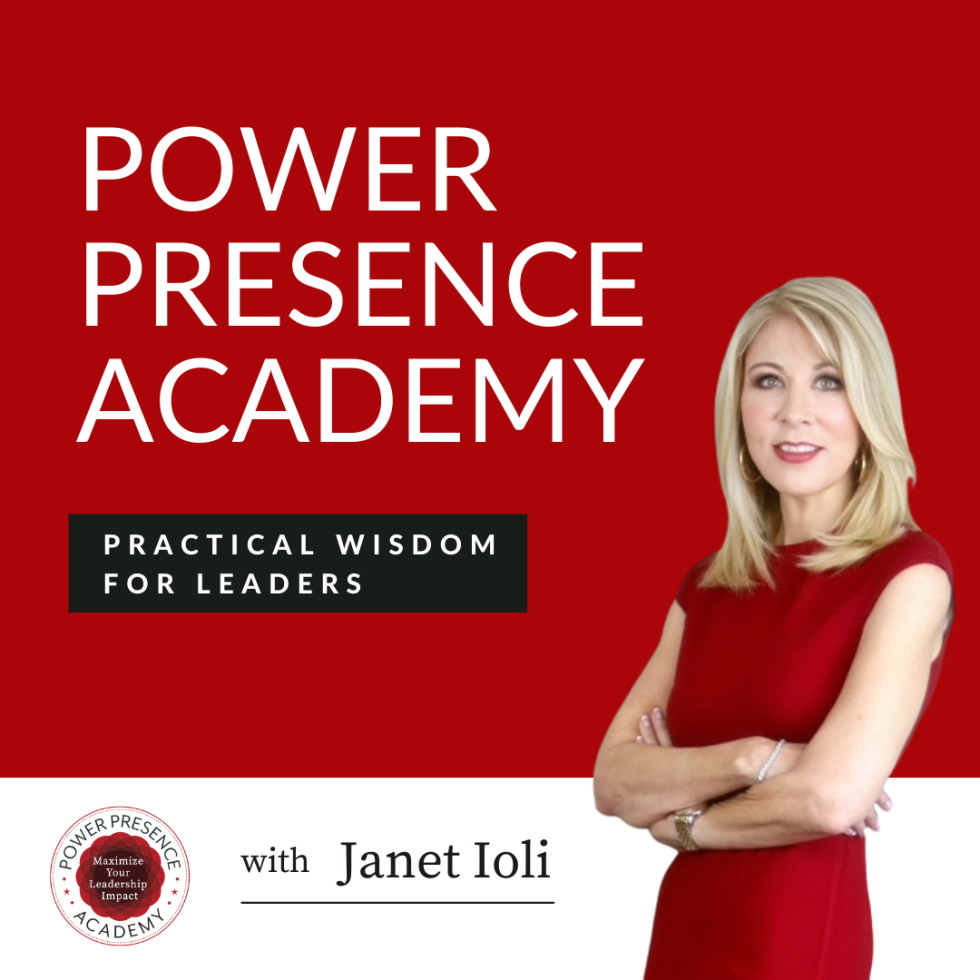 E14: Leading Yourself: 4 Strategies To Get Your Groove Back
If you're like me and most of the leadership coaching clients I work with, you know too well what it feels like to lose your groove and to feel so overwhelmed and burnt out that you're no longer excited about what you're doing.

In this episode, I'll share with you 4 simple strategies that I offer to my clients (and that I use myself) to help you get your groove back, regain your flow, and operate at your best.
In this episode:
#1 Identify your groove destroying triggers and plan a counter-trigger

#2 Practice regular, non-negotiable self-care

#3 Create a Personal Purpose Statement and refer to it

#4 If needed–take a soul search break to engage in re-evaluation and some deeper self-reflection
Power Presence Academy: Practical Wisdom for Leaders is the go-to podcast for anyone who leads. Your host is Janet Ioli, a leadership and human development expert, sought-after coach and advisor to global executives, and former executive with experience in four Fortune 100 companies.
Noteworthy Quotes from This Episode
"There are things that you can plan for as your reward, knowing: okay, I've got to get through this trigger activity–but here's what I'm going to plan at the end to make sure I recharge."
"Regular self-care, including eating healthy foods and exercising regularly, are not optional items on your to-do list."
"Whatever you're placing before your physical and spiritual self-care rituals will only be enriched when you are healthy, centered, connected, and grounded."
"Revisit your why and create a clear statement about what you want to contribute to the world… it reminds you of your bigger purpose and the bigger impact you want to have."
"Only YOU have the answers to what makes your soul sing and to what depletes it. I would say stop avoiding those answers…"
Leave a Review:
If you enjoyed this episode, please leave a review on Apple Podcasts.  Select "Listen in Apple Podcasts," then choose the "Ratings & Reviews" tab to share what you think.  
Resource Links:
If you are going through a major career or life transition and are ready to do some deeper soul searching about what you want to create but aren't sure where to start,  Soul Search Sessions: Life & Career Reinvention, one of my high demand group programs may be just what you need.
The next one is being held early in 2023.  To get more information about it reach out to support@janetioli.com or visit: https://www.janetioli.com/programs/ 
Connect with Janet Ioli:
Website: janetioli.com
Linkedin: Janet Ioli
Instagram: @janetioli