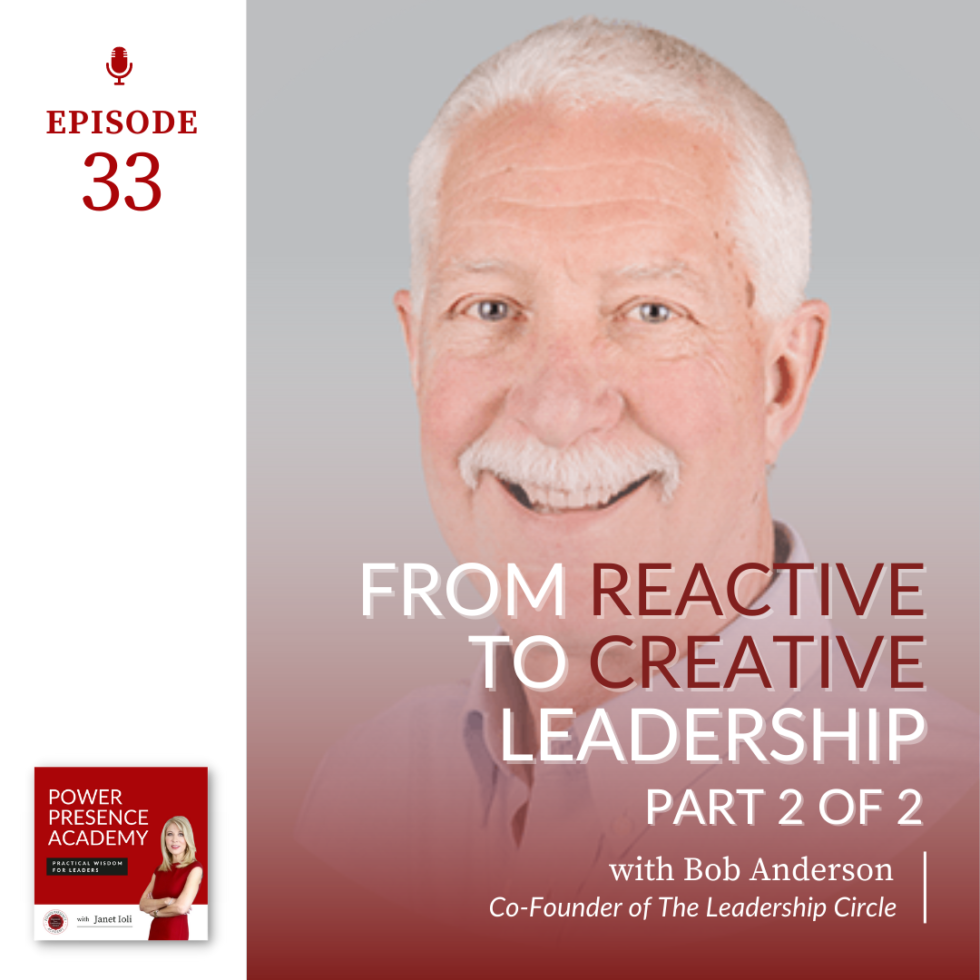 E33: From Reactive to Creative Leadership with Bob Anderson, Part 2 of 2
"Our backs are against the wall. What we're witnessing is the failure, the implosion of the current order, which is run by the current order of mind. There's an emergence that's happening. So, the kind of leadership that I'm describing as Integral is required now. Creative leadership is necessary, but not sufficient. We need the next generation of leadership if we're going to see this through."
Welcome back to my incredible conversation with Bob Anderson, in the final episode of this special two-part series.
Bob Anderson has been a pacesetter and thought leader in the field of Leadership Development for over 30 years. He is the Co-founder, Chairman, and Chief Knowledge Officer of the Leadership Circle. He is also the co-author of two books, and the creator of the Leadership Circle Profile, a 360 leadership assessment used in organizations around the world.
Today, we are diving deeper into consciousness and adult development, the inner world of a leader and how that world manifests outside, how to master leadership, and what's to come as we face a leadership crisis. 
In this episode:
The correlation between higher Stages of Adult Development and more effective leadership

The shift from reactive leadership to creative leadership

"What kind of death do you want?"

The lifelong practices for mastering leadership

As you develop further, you have to go deeper to go higher

The great challenge for leadership in the future and what you can do about it

And more!
If you missed the previous episode, make sure to catch up on the Power Presence Academy Podcast Episode 32: From Reactive to Creative Leadership with Bob Anderson, Part 1 of 2.
Power Presence Academy: Practical Wisdom for Leaders is the go-to podcast for anyone who leads. Your host is Janet Ioli, leadership and human development expert, sought-after coach and advisor to global executives, and former executive with experience in four Fortune 100 companies. She helps leaders ground themselves with confidence, connection, and purpose and learn to lead with Less Ego, More Soul.
Noteworthy Quotes from This Episode
"Oh, they're not the problem. I'm the problem. I want to lead. I want to be a force for change in the organization and I've got to have everybody like me all the time. To lose credibility, to have someone, especially higher-ups, disappointed in me for a moment? Not okay. So, I was always managing how they were seeing me and you can't lead from there."
"What kind of death do you want? Do you want the quick death of 'I'm fired? I gotta go find a new job?' or do you want the long, slow, agonizing death of having your integrity chipped away at, day in and day out? That's a miserable death. You lose yourself in that death. The other way you can land on your feet and go on to create more of what you want."
"I think in the later Stages of Development, you go deeper. "You've got to go deeper to go higher" is a principle."
"Moving into self-authorship, which is a really important move, is to take accountability and responsibility for creating your own future and accountability for the results you're getting in your life. That's a really important move, and only about 20% of adults fully make that move."
"The challenge for leadership isn't merely VUCA anymore, nor is how to manage or even have the organization thrive amid complexity.  It's how to do that and have the organization play a role in rewriting civilization."
Resource Links:
If you want to become more grounded, confident, and aligned with your deeper values in just 21 days. Check out my book Less Ego, More Soul: A Modern Reinvention Guide for Women.
If you enjoyed this episode, please leave a review on Apple Podcasts.  Select "Listen in Apple Podcasts," then choose the "Ratings & Reviews" tab to share what you think.  
Connect with today's guest on LinkedIn:  Bob Anderson
Connect with Janet Ioli:
Linkedin: Janet Ioli
Instagram: @janetioli
Website: janetioli.com
Janet is the founder of Power Presence Academy.  She helps leaders ground themselves with confidence, connection, and purpose and lead with Less Ego, More Soul.